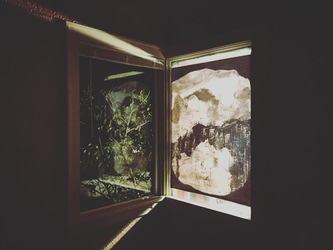 Erika Nakatani
b. 1976, Western American
Growing up in rural Alaska I spent my childhood out in the woods looking at things by myself. Inanimate objects, rocks and sticks, were radiant with self awareness. The sky lost itself in the lake; I lost time in the seasonal distortion of light that far North. The way I experience the world and develop my paintings- feeling out the form, listening with color, comes from the same child-­‐animal locus of perception. I have faith in the fluidity of our position, our ability to adapt our sense of place to our ever-­shifting situation, to measure and mark the grid and watch it drift away. Catch and release.
I paint a space between boundaries, a dialectic of interior and exterior and an experience of time through color. Now, in the desert, I feel like I live at the bottom of the sea. The physical land binds order to the disorder of the world, negating it through a complex alchemy. How can the world make the world go away? The inconsistency of external forms making visible impossible chronologies.
/
When the deafening silence folds space.
It can be a relief to see the horizon when you wake up in the morning.
Color begets form and erodes it. My palette is full of the synthetic acids and neons, untouchable mineral blues, wet black gritty ancient dirt. My process oscillates between construction and event. The careful distortion of the frame coupled with the potential of horizon promises the relief of diminished gravity. Erasure, sudden swipes, compacting and cutting out, the secreted instability of the geology in formation. Dressing up ghosts.
I'm interested in a narrative that can resist the story. I don't know what it's made of, but I know how it wants to feel.
I dismantle the boat while sailing in it.
Painting lays an anchor, painting cuts the anchor.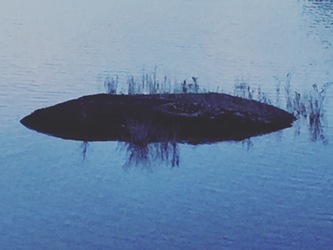 Selected Exhibitions

2016
Staub Maler, Homeland Security Gallery, Dallas,TX. (s)
Sandy's 7 to 11, Sandy's 7-11, Marfa, TX

2015
Unlimited Potential, curated by James Austin Murray, Lyons Wier Gallery, New York, NY.
You're getting Warmer, Composition Gallery, Portland, OR.

2013
Hot House, Jones Group, Portland, OR. (s)
Summer Small Works Show, Greenpoint Gallery, Brooklyn, NY.
Beyond the Threshold, curated by Renwick Heronimo, Artspace Gallery, New York, NY.
Sondheim Prize Semi-Finalist Show, Meyerhoff Gallery MICA, Baltimore, MD.
Black Light, MFA Thesis Exhibition, D Center, Baltimore, MD.
On Loan - Formalities, juried by Cara Ober, Area 405, Baltimore, MD.
Currents, invitational, Hemphill Fine Arts at Carroll Square Gallery, Washington, D.C.
Smörgåsbord, juried by Paddy Johnson, Gallery CA, Baltimore MD
Inside Outside - The Space Between, Parrish Gallery, Newberg, OR

2012
What We Missed the First Time... , The Creative Alliance, Baltimore, MD (s)
Spring Show, D-Center, MICA, Baltimore, MD
Fall Hoffberger Show, Riggs and Leidy Gallery, MICA, Baltimore, MD
The Great White, curated by George Belcher, Gallery 500, MICA, Baltimore, MD

2011
Mnemosyne, Golden Rule, Portland, OR (s)
Fall Hoffberger Show, Fox Gallery MICA, Baltimore, MD
Sending Signals, invitational, Art Space UOU, Ulsan, Korea (c)
Summer Invitational, Blackfish Gallery, Portland, OR
Broad Strokes, curated by Sam Korman, Car Hole Gallery, Portland, OR (c)

2010 50 Works, curated by Susan Harlan, Water Heater Gallery, Portland, OR
2009 Store for a Month, curated by John Brodie, pop-up, Portland, OR
2008 Dreams, curated by Ben Pink, Launch Pad Gallery, Portland, OR
2004 17 Reasons, Pepper Gallery, Portland, OR (s)
Pacific Switchboard, Pacific Switchboard Gallery, Portland, OR

EDUCATION

2013 Maryland Institute College of Art, Baltimore, MD
Master of Fine Arts, Hoffberger School of Painting

2011 Portland State University, Portland, OR
Bachelor of Arts, Painting - Drawing - Printmaking

AWARDS AND HONORS

2014 Kimmel Harding Nelson Center for the Arts Fellowship
Playa Summer Lake Residency Fellowship
Jentel Foundation Residency Fellowship
2013 College Art Association Travel Grant Recipient
Janet and Walter Sondheim Prize semi-finalist
Virginia Center for the Creative Arts (VCCA) Residency Fellowship
BIBLIOGRAPHY
Gould, Sam. "Nature Is a Language."
In the Pines: Abstraction, Recognition, and the Power of Not Knowing
. Minneapolis: Wooden Leg Print, 2016. 91-99. Print.
Art Orbiter Blog, with image, http://www.artorbiter.com/wp-content/uploads/2013/07/Erika-Diehl.jpg , July 2013
Louis Jacobson, "Reviewed:
Currents
at Carroll Square Gallery", Washington City Paper, February 19th 2013.
Ian MacLean Davis, "We Saw This, So Should You: 2013 MFA Thesis II at Maryland Institute College of Art",
www.bmoreart.com
(blog), April 22nd, 2013.